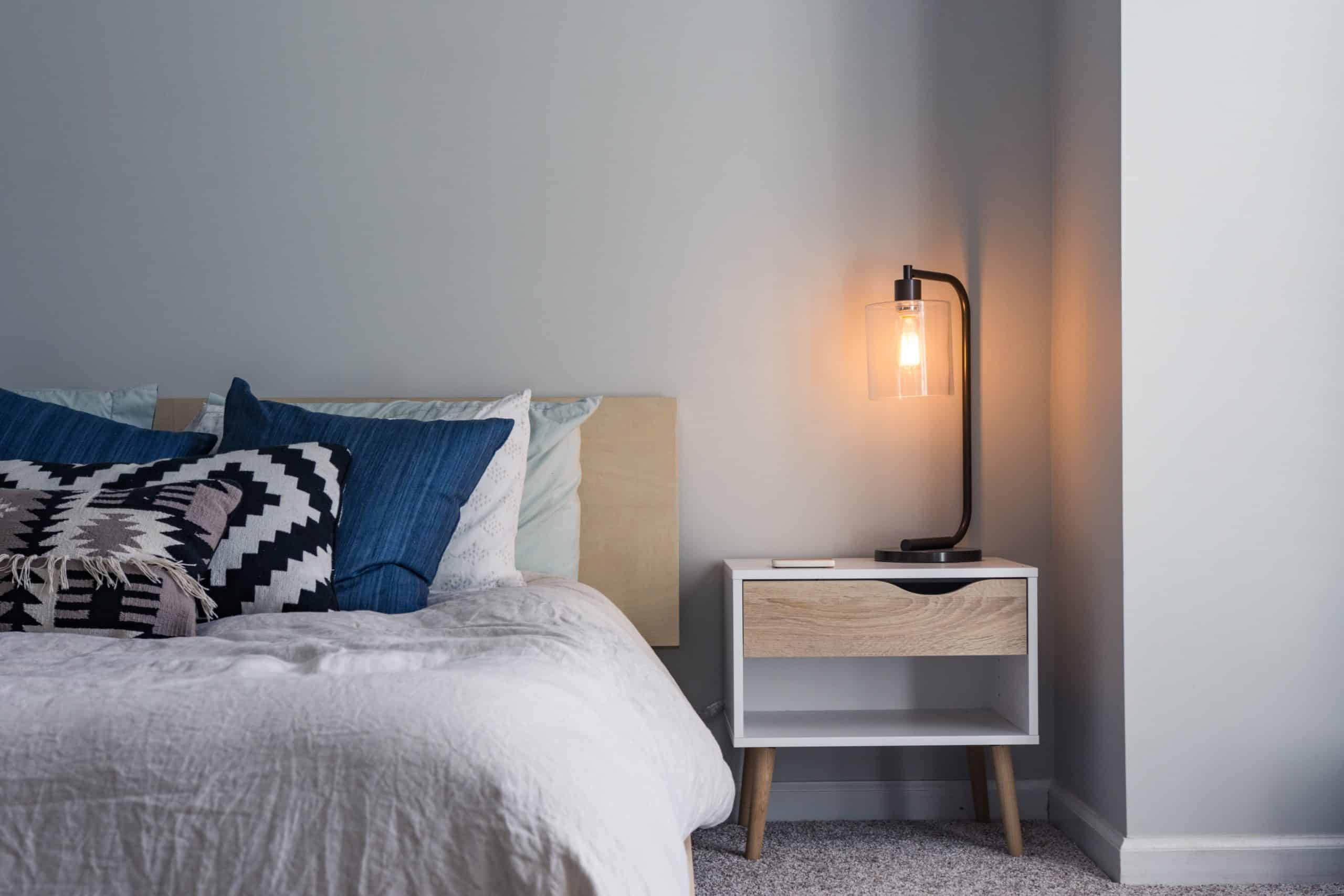 Better Sleep, Better Life!
Better Sleep, Better Life!
By Dr. Laura Hambley Lovett with Aaron Telnes
September 9, 2021
Sleep is a topic that touches all of us, which is why I was delighted to interview Aaron Telnes, one of the psychologists on my team, about tips and tools for a better sleep. Aaron is a Registered Psychologist with Synthesis Psychology, helping people overcome their sleep challenges. Aaron also works with numerous organizations through Humance, helping leaders and employees better manage stress, the key killer of a good night's sleep.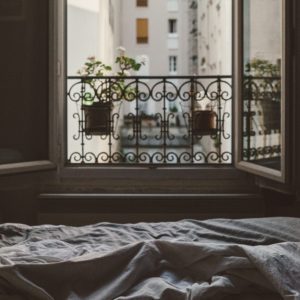 Aaron and I discussed the keys to healthier sleep habits to promote health, happiness, and success in work and in life. Having struggled during his university years with chronic sleep deprivation, Aaron developed better sleep habits during his career as a psychologist. He then grew his expertise through training in Cognitive Behaviour Therapy for Insomnia (CBT-I), to help his personal and organizational clients learn to sleep better.
How can sleep habits influence our wellness in work and in life?
Aaron spoke about the importance of a consistent routine as the foundation of good sleep.  The more consistent our sleep routine is, the more productive, motivated, and optimistic we are in our work and lives. When it comes to stress and anxiety, a good night's sleep can truly help lessen these symptoms.  Good sleep habits lead to feeling better, and feeling better leads to sleeping better: it's a perpetual feedback loop.
THE MORE CONSISTENT OUR SLEEP ROUTINE IS, THE MORE PRODUCTIVE, MOTIVATED, AND OPTIMISTIC WE ARE IN OUR WORK AND LIVES.
When we're under-slept, the hormone cortisol is released in our bodies, which triggers a fight or flight response and gets in the way of our higher order thinking. Good sleep allows our brain to fully optimize, rather than be in a "scarcity state." So why do many of us have challenges with sleep and find ourselves more sleep deprived than we should be?
Society has given us messages about sleep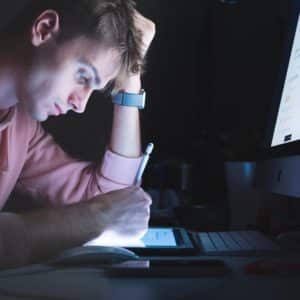 Many of us grew up with the message that sleep should be limited as it's not productive, and success means waking up early and/or working later evenings. Now, many are recognizing the importance of more sleep for greater productivity. With better sleep, you will live life with more positivity and enjoyment. It is not a badge of honour to pull a late night or all-nighter. In fact, this lack of sleep profoundly impacts our ability to think critically and to perform. We need to shift our mindsets in this way, and truly understand that sleep is key to resetting our brains and bodies so that we can be at our very best.
IT IS NOT A BADGE OF HONOUR TO PULL A LATE NIGHT OR ALL-NIGHTER.
Is there a magic number for sleep duration, and what are the trends when it comes to aging?
According to Aaron Telnes, eight hours is not the magic number! The right amount of sleep for each of us can range from 6-10 hours a night, depending on what your needs are. And, of course, this number is higher for children and adolescents as their brains and bodies develop.
Our sleep quality reduces as we get older, which is a natural progression. We are more easily awakened, and there can be a lot more stressors as we age (e.g., more responsibilities, more senior positions at work, more complex family dynamics, eldercare challenges, etc.). Yet we need to preserve as many good sleep habits as possible, because "Sleep is the fountain of youth."  If you get more healthy sleeps, you will more likely be happier and healthier at any age.
"SLEEP IS THE FOUNTAIN OF YOUTH."
IF YOU GET MORE HEALTHY SLEEPS, YOU WILL MORE LIKELY BE HAPPIER AND HEALTHIER AT ANY AGE.
What is your best advice for people who are struggling with poor sleep?
Aaron gives this advice, some of which he admits may sound counter-intuitive: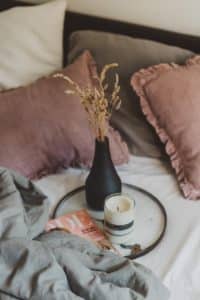 1) Create a sleep routine. You need a transition period between your evening and your bedtime. Your brain needs this period, whether it's a bath, stretching, or reading. It's important to remember that focusing on novel, stimulating content activates our brain. So be careful what content you consume before bed. Creating a buffer zone is key for your body and brain to relax and unwind.
2) Go to sleep around the same time every night and wake up at the same time every day. This may not always be feasible with weekends and travel, for example. However, having this consistency as much as possible every day of the week will make a difference.
3) Only go to sleep when you're tired.  Don't lay in bed forcing yourself to sleep. If you can't fall asleep within 10-30 minutes, get out of bed and re-set. Go to another comfortable spot and don't go back to bed until you're sleepy. Don't try to sleep; this is known as "sleep effort" and. According to Aaron, sleep effort is counterproductive, creating pressure, activating our brain, and causing unnecessary stress.
Did you notice positive changes or trends to sleep habits throughout the pandemic? 
Not having to commute gave people extra time for themselves, and as a result, many started sleeping better. Aaron notes how important it is to manage our schedules with both up and down time. Going forward, leaning into a flexible/hybrid work schedule can help you better manage your work and life.  This is a period of transition for many, and we need to be careful about what we add back into our routines. Ask yourself: will it add value or stress back into my life? We need to be more conscious of these decisions. Being more intentional about your yes's and your no's is key to your work-life wellness.
THIS IS A PERIOD OF TRANSITION FOR MANY, AND WE NEED TO BE CAREFUL ABOUT WHAT WE ADD BACK INTO OUR ROUTINES.
To what extent does alcohol affect your sleep?
Alcohol limits our ability to get into deep, restorative REM sleep, where recovery and rejuvenation occur. Therefore, our quality of sleep suffers when we drink.  And, as many of us can relate, low mood as well as anxiety often comes the next day. Our body is out of balance when we're hungover.
What is one book and one podcast you'd recommend to help people learn more about improving their work-life wellness, and in particular, their sleep?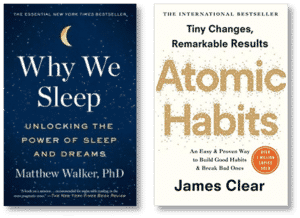 According to Aaron Telnes, one of the greatest books he has read is Why We Sleep, by Dr. Matt Walker.  Dr. Walker has also launched the "Sleep Diplomat" podcast, which Aaron highly recommends. Another book called Atomic Habits, can be applied to developing better sleep habits.
There is an app called CBT-i, which supports individuals with insomnia. Aaron tells us that the CALM app is very good as well for being mindful and relaxed, again contributing to better sleep. The Headspace app is wonderful for assisting with meditation and mindfulness, and the Slumber app is designed to help get you to sleep.
In sum, be sure to prioritize and nurture your sleep. Developing sleep habits through these many tips and tools is well worth the effort. Better sleep will ultimately lead to better work-life wellness.
***
Aaron Telnes holds a Master of Counselling degree from the University of Calgary, and is a passionate Registered Psychologist at Synthesis Psychology and Calgary Career Counselling. Aaron strives to help clients identify and overcome their mental health concerns through a strength-based approach, focusing on promoting self-awareness, developing coping skills, strategic problem-solving, and identifying and implementing attainable goals. Aaron's passion is supporting clients who struggle with anxiety, depression, sleep issues (insomnia), and career choice/transitions.
In addition to personal counselling, Aaron enjoys supporting individuals, teams, and organizations in navigating and optimizing the effectiveness of distributed work and teams. At the national Canadian consulting firm, Humance: Culture & Performance, he is a Consultant in the area of Leadership and Team Development. Aaron has over 5 years of experience in the development, implementation, interpretation, and presentation of projects and applied research assessments, as well as evaluating the effectiveness of programs/interventions and individuals. In his work with individuals and organizations, Aaron adopts a creative, collaborative and solution-focused mindset to achieve desired results.