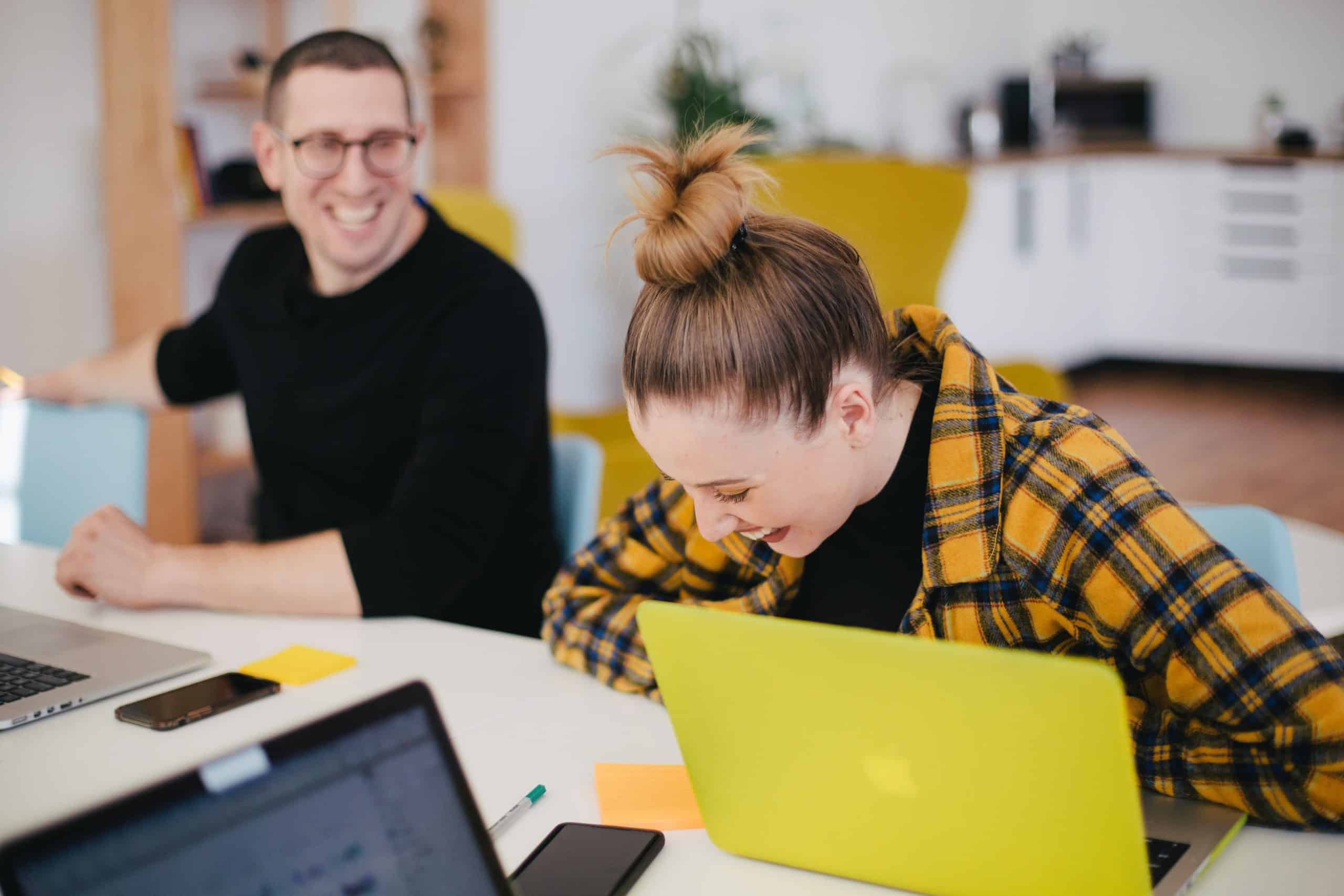 Grateful Leadership: The Road to One Billion Happier People
Grateful Leadership: The Road to One Billion Happier People
By Dr. Laura Hambley Lovett with Steve Foran
May 26, 2021
PART I: An Interview with Steve Foran
Gratitude at work and in life has profound benefits. It is a habit that can transform us all.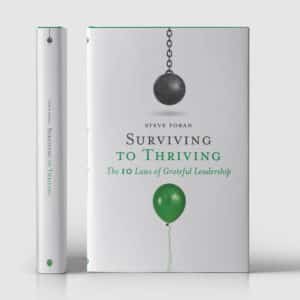 I recently had the opportunity to interview Steve Foran about the importance of gratitude at work and in life. Steve Foran's dream is to make one billion people happier. He started out in Electrical Engineering, and then he began exploring the relationship between gratitude and philanthropic giving during his MBA. Over the past 15 years he has been writing and conducting practice-based gratitude research and teaching the habits of gratefulness globally. In 2019, he wrote the book, Surviving to Thriving – The 10 Laws of Grateful Leadership.
I have written this blog to summarize my two-part podcast with Steve Foran. Our discussion focused on how gratitude operates in the workplace, and how leaders can foster gratefulness to promote health, happiness, and success in work and life.
What led you to make a career pivot to become a Believer in Grateful Leadership?
About 20 years ago, Steve realized that his life was handed to him on a sliver platter. Prior to this realization, he believed that he did it all himself. Many high achievers are taught that it's all up to them to achieve their goals, and to celebrate that they did it all on their own. In fact, it's never on your own – success depends on a whole network of relationships and support. This realization led Steve to feel profound gratitude, in his head and his heart, and it drove him to help others achieve a sense of gratitude in their own lives.
IT'S NEVER ON YOUR OWN – SUCCESS DEPENDS ON A WHOLE
NETWORK OF RELATIONSHIPS AND SUPPORT.
Can you share a bit about the research you conducted on gratitude?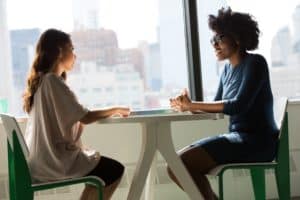 Steve describes how the root of generosity is gratitude. Being grateful for everything you have, regardless of your income level.  Generosity is not always financial – it can be spending time with others, and truly listening and connecting.
In every interaction that Steve has, such as in a grocery store or on a phone, he practices pausing and asking: How's your day going? He makes sure to truly listen to the answer – this needs to be genuine.  Something that is otherwise quite transactional can become transformational when you truly connect with another human being. For example, Steve described a grocery clerk who almost broke down in tears when he paused and asked her how she was doing. Stepping outside out of mundane interactions that made up this clerk's day and taking a second to be human, was enough for her to reflect inwards and make a meaningful connection with Steve. This simple act shows that you care about someone as a person, rather than a means to an end. Today, more than ever, people need caring gestures. I encourage you all to try this and experience the results.
SOMETHING THAT IS OTHERWISE QUITE TRANSACTIONAL CAN BECOME TRANSFORMATIONAL WHEN YOU TRULY CONNECT WITH ANOTHER HUMAN BEING.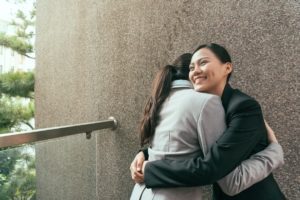 Tell us about what inspired you to write your book on Surviving to Thriving: The Ten Laws of Grateful Leadership? 
Steve had the goal of writing this book for a number of years, and kept putting it off. In 2018, he said to himself, "this is the year I'll get this done," and he released the book in 2019. This book is based on Steve's research and that of other social scientists, and it focuses on how we can spend more of our lives thriving, rather than just surviving. You can purchase his book through Amazon, or Steve's website, gratitudeatwork.ca. If you use discount code FRIEND on Steve's website, you can save 20% and get a signed copy mailed to you.
Steve's book presents the spectrum of surviving to thriving.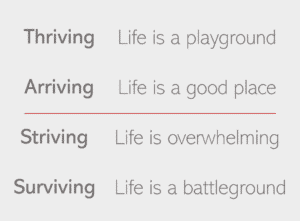 When we're below the red line, we're in a negative emotional state, and above red line, a positive emotional state. When we're in that negative emotional state, where life feels like a battleground or generally overwhelming, it's almost as if we turn off our brain's executive functioning. However, we need these functions in order to be creative and solve problems.
High levels of stress and anxiety due to the pandemic have been experienced by half to three-quarters of us, due to uncertainty, kids at home, eldercare, etc. This has led to functioning at lower levels of this table.  We're seeing more people below the red line. We all move through these levels, but need to be conscious about how to move back up.
Steve recommends that it's important to get people to step back and reflect on what they're grateful for. This puts us in a better position to be able to deal with life's hurdles (pandemic and otherwise). It doesn't mean life is easy, but we all have the ability to tap into gratitude.
WE ALL HAVE THE ABILITY TO TAP INTO GRATITUDE
Can you explain the relationship between your experience as an engineer, and your experience building gratitude-based cultures?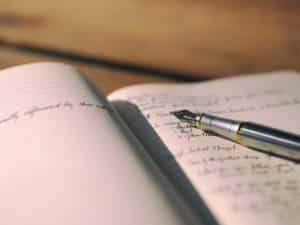 Steve explains the difference between feeling excitement about a new work week, versus the "Sunday night feeling," where we dread the week ahead. In his book, Steve takes a body of research and builds on it, while also incorporating his years of practical experience. He presents models and frameworks and habits that can be easily integrated into life. For example, the daily practice of writing down 3 things you're grateful for. This causes you to explore various areas of your life and reflect on them in a productive way. I've built this into my morning ritual and I highly recommended doing the same.
PART II: The Intersection of Work and Life, and Gratitude's Impact on Work-Life Wellness
Part two of our podcast discussion delves into Steve's own work-life wellness, and the impact that a daily gratitude practice can have on everyone's work and lives.
What does "work-life wellness" look like for you personally?
Now that Steve's work is primarily at home, he has found that it's been harder to set boundaries between work and life. Especially earlier in the pandemic when his work suddenly dried up, he felt he had to continuously try to get more work, and therefore be available all the time. He was physically exhausted at the end of each day because of this. In the winter, he doesn't do many outdoor activities so he's more likely to get out of balance in work and life. Spring makes this a bit easier with mid-day runs, and more opportunity for "me-time." Taking me-time is important, and a lesson for all of us to carve out time when we're at our best. Carve out times during the day that work for you, based on your energy levels and motivation.
What are the ties between gratitude and work-life wellness?
When we see life as a gift, we treat it like a gift. If we feel grateful for what we have in life, we can care for life more intentionally and mindfully. This ties to greater wellness in both work and life. Being grateful for life on a daily basis can have physical impacts on our health as well, such as:
Sleeping more soundly
Exercising more regularly
Having more social connections.
Lowering our risk for heart disease and diabetes
Building a greater resistance to viral infections
The simple practice of gratitude on a daily basis makes a big difference.
How can organizations play a better role to support people's work-life wellness?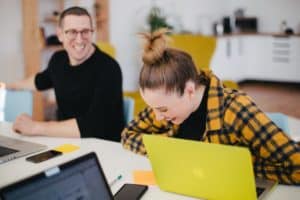 Steve describes how organizations should care for their people as human beings, spend time with them, allow them to connect at a human level.  When we come together on the "Brady Bunch screen" (ie. Zoom, Teams) – it's harder to make social/human connections.
Leaders need to create the space for people to have real personal connections with one another, which enables people to better support one another. Steve gives the example of how one client can schedule mini connection calls with 2-4 people at a time. These are non-work related, rather, they're a matter of checking in with one another and supporting each other. They help morale and create better connections with the team.
LEADERS NEED TO CREATE THE SPACE FOR PEOPLE TO HAVE REAL PERSONAL CONNECTIONS WITH ONE ANOTHER.
An example in my own work is the fitness challenge at Humance. The company randomly divided us into teams, and we get points based on how much time we spend exercising at home. We all supported each other as we became more active this spring, and formed more social connections along the way.
If you could have one wish for a better world when it comes to work and life, what would it be?
Steve gives the example of how, at sports games, people are so very excited, jumping and cheering loudly. His hope is that people have this level of passion in their lives, in their families, work, and their communities.
IF YOU'RE LIVING YOUR LIFE WITH GRATITUDE, THEN MONDAYS SHOULD BE HAPPY.

CRAP WILL HAPPEN, BUT IF YOU PRACTICE GRATITUDE, IT'S MUCH EASIER TO DEAL WITH AND REBOUND FROM LIFE'S ADVERSITIES. FIND THE GRATITUDE EVERY DAY IN SOME WAY SHAPE OR FORM. 
Steve's dream is one billion happier people. While not the typical career path of an Electrical Engineer, he began exploring the relationship between gratitude and philanthropic giving during his MBA—receiving the Gold Medal for highest academic standing. Since then, he has been writing and conducting practice-based gratitude research and teaching the habits of gratefulness—close to fifteen years now. What has emerged is his science-based program, Gratitude At Work. It's a simple, yet innovative approach to thriving leadership and business growth. He founded Gratitude at Work in 2007 and started hosting conversations in his community which have since grown into work with leaders around the world, shifting cultures, helping leaders and their teams be happier at work by bringing more gratitude to work each day. His 2019 book, Surviving to Thriving – The 10 Laws of Grateful Leadership, was named 1 of 8 recommended reads by Greater Good Science Center at University of California Berkeley and 1 of 5 positive psychology books for a happier 2019. Also in 2019, he was an inaugural winner of Canada's CEO Trusted Advisor Awards Program and in 2017, he was awarded the highest earned designation in professional speaking, CSPTM. He's a son, brother, husband, father and relatively newly minted grandfather.