Harnessing the Success-Energy Equation to Get Sh!t Done!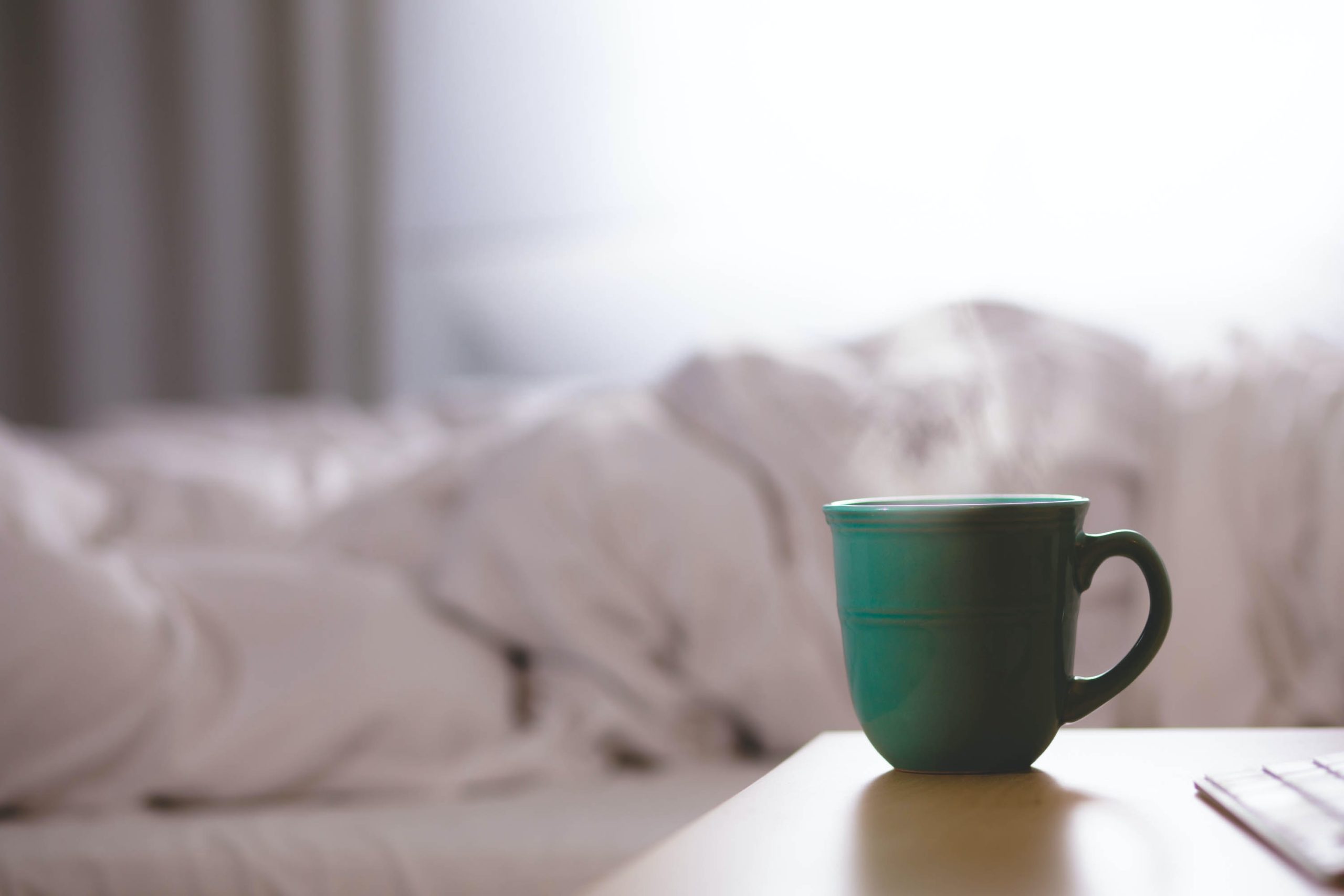 Michelle Cederberg brings a wealth of experience, energy and passion to a topic we all need more of: regaining focus and re-charging our energy. With all that is on our plates, as well as the uncertainty of the last couple years, many of us feel like we're running on fumes.
Michelle is a Certified Speaking Professional, author, coach, and consultant, who believes that personal and professional success is directly influenced by how well we harness the physical, mental and emotional capacity we have within us. In this article, I share some of the many nuggets of wisdom Michelle and I discussed on Episodes 19 and 20 of my podcast, Where Work Meets Life™, to help boost your energy and capacity to create the life and career you want.
Tell us about your latest book, The Success Energy Equation and what inspired you to write it?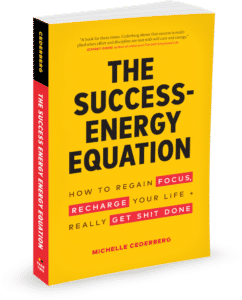 Michelle describes how this book was a labor of love, which she wrote to share important strategies for building resilience and setting goals. The book is for anybody who feels busy and stressed, but who could get more energy out of their creative minds and bodies by putting better habits in place. It is a practical and fun read, and I appreciated the memorable examples and edginess of Michelle's approach.
What are the biggest challenges you see holding people back from pursuing their passions?
People often say they don't have enough energy, time, or motivation to go after what they really want. Most of us are very busy, and we end up going through life on autopilot. So, we forget to ask ourselves if we are doing the right things; the things we want to be doing. We need to periodically make space to reflect on whether we're focusing on the right priorities.
WE FORGET TO ASK OURSELVES IF WE ARE DOING THE RIGHT THINGS; THE THINGS WE WANT TO BE DOING.
According to Michelle, when we tap into what's right for us, it's hard to stop moving forward! This unlocks the time, energy, and motivation that we thought we lacked. Michelle and I also discussed how energy is a renewable resource, but we can only operate at our full potential if we take care of the "machinery" generating our energy (which includes our brain and body).
Can you share some practical tips and tools to help people "seize the freakin' day"?
Michelle recommends starting every day with a "first thing focus." Every morning, ask yourself: What do I need in work, what do I need personally, what will make me feel good about what I accomplished today? Check in with yourself before you check in with the world. Avoid starting your day by grabbing your phone or the nearest device. Instead, Michelle recommends doing a 90 second scan to check in on:
How are you feeling?
How did you sleep?
What would make today a great day?
CHECK IN WITH YOURSELF BEFORE YOU CHECK IN WITH THE WORLD.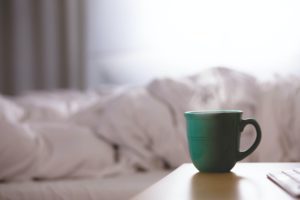 Then take some deep breaths to breathe yourself into the day. Try doing this rather than scrolling social media first thing or listening to the news. The devices we carry around bring us down a rabbit hole and are designed to pull our attention away from ourselves. Focusing on a device can elicit a low-level state of stress first thing in the morning, before we've even had a chance to acknowledge the new day.
FOCUSING ON A DEVICE CAN ELICIT A LOW-LEVEL STATE OF STRESS FIRST THING IN THE MORNING, BEFORE WE'VE EVEN HAD A CHANCE TO ACKNOWLEDGE THE NEW DAY.
What stands out as a key takeaway from your book, The Success-Energy Equation?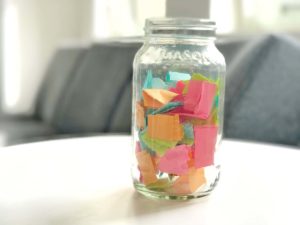 Michelle's favourite chapter in her newest book is on building belief in yourself and your goals. We are so much more resilient and capable than we give ourselves credit for. You need to:
Give yourself a pat on the back for all you've been able to navigate.
Be kinder and gentler to yourself.
Take note all the awesome things you've accomplished. Try the "awesome jar" concept that Michelle shared from one of her clients. Anything you're proud of, toss it in the jar. When you're having a low day, reach into the jar and read a couple of these, to lift your spirits.
Michelle reminds us that we are so often changing the world in small daily steps. We need to avoid the "go big or go home" approach, because then we reflect on what we could have done versus what we actually did.
WE NEED TO AVOID THE "GO BIG OR GO HOME" APPROACH, BECAUSE THEN WE REFLECT ON WHAT WE COULD HAVE DONE VERSUS WHAT WE ACTUALLY DID.
What is one book and podcast you'd recommend to help people learn more about improving their work-life wellness and energy levels?
The Happiness Advantage, by Shawn Achor; Michelle loves this book as it reminds us that we won't become happy by being successful, but instead by nurturing our emotional health. We need to tap into the things that bring us joy.
Michelle also recommends the "punchy" work of Steven Pressfield – especially his book, Do The Work. Mike Vardy's podcast, The Productivityist, is helpful for learning to build systems for greater productivity, and Megan Sumrell's Work+Life Harmony podcast, geared towards women, is a wonderful resource as well.
If you could have one wish for a better world when it comes to work/life, what would it be?
Kindness. Smile and look people in the eye. There are a lot of people who are struggling and feeling angry or sad, but if we can show kindness and receive kindness, it makes a world of difference. So, remember to smile today to all who cross your path.
***
For over 17 years, Michelle has captivated audiences across North America with her empowering and humorous messages about how to set worthwhile goals, get energized for success, and live a bigger life.
She holds a Masters in Kinesiology, a BA in Psychology, a specialization in Health and Exercise Psychology, is a Certified Exercise Physiologist, a Certified Professional Co-Active Life Coach, and an ORSC-Trained Team Coach. She truly combines mind, body and practicality to empower change.
Michelle is the author of three books, including If Your Life Sucks It's Your Fault*, and Energy Now!. Her newest book, The Success-Energy Equation, debuted as a bestseller in October 2020.